Welcome to the 2022-23 School Year on Behalf of Superintendent Large: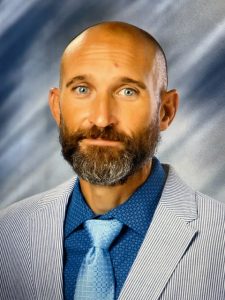 It is my privilege to welcome you to the 2022-2023 school year. What lies ahead for all of us will be many experiences in which we must all learn from and the choice to see the good in each! We want all of our young trojans to be prepared to face adversity without finding the need to settle for mediocracy. How we will plan to do this becomes all of our commitments to communication, encouragement and offered experiences. 
We remain committed to the safety measures and facility updates that have been contested as long overdue, however together through your support, encouragement and funding, you can visually see the impact everyone in our communities have made to West Marshall. With the school year ready to begin August 23, we continue to find ourselves excited and ramped up to introduce our new faces of students and staff. I've always said, "Give us two weeks and you'll never pick the new student out walking down the hall." We continue to do our best to make each student welcomed and proud they have chosen to represent the Black and Gold!  Click here to read the remainder of Mr. Large's letter.
"Together we are West Marshall"!
Jacy Large, WMCSD Superintendent
---
The summer of 2022 has flown by and everyone here at West Marshall CSD hopes that each of you have enjoyed your time away, made some memories, and even learned a little since school let out in May.  While we know back to school time is hard in many ways, getting back into a routine and settling into another school year should be easy going and even fun!
As with many things, this summer we have transitioned many of the items traditionally found in the newsletter packet into an online setting for easier and ongoing access.  While the required notices were sent out recently, this page and the content linked focuses more on providing students and families with key info on the upcoming school year plus commentary from the district administration team and counselors welcoming you each back to school!  Please take time to review the links below and bookmark this page as an ongoing reference throughout the year.
NOT REGISTERED YET?  VISIT OUR SITE TO COMPLETE THE PROCESS!
ONSITE REGISTRATION:  Tuesday, August 9th from 
1:00 to 4:00 PM i
n the Middle School Library
BACK TO SCHOOL NIGHT:  Join us Thursday, August 18th 
to greet your teachers, visit the school, and get ready for the 1st day!
Elementary:  5:30 – 6:30 PM

Middle School:  6:00 – 7:00 PM

High School:  7:00 pm – Freshman & New Student Orientation
---
QUICK REFERENCE LINKS
From the Desk of…Your West Marshall Administration Team:
    Jake Randall, WMCSD High School Principal Welcome Back Newsletter
   Bob Tollefson, WMCSD Intermediate/Middle School Principal Welcome Back Newsletter
   Josh Russell, WMCSD Elementary School Principal Welcome Back Newsletter
---
Counselor Corner

Welcoming back all our students to the 2022-23 School Year

Patti Edler, High School Guidance Counselor

Click here to read Q&A about important HS 2022-23 information and dates!

Michelle Kriegel, Middle School Guidance Counselor

Click here to read exciting updates ahead for the 2022-23 MS students!

Brandon Fitch, PK-5 School Guidance Counselor

I am excited to have students back for the 2022-23 school year and look forward to many new ways to reach the kids!