Jan 27, 2020
Food, Silent Auction & More Food
Raising funds for great reasons!
Jr Class is holding a silent Auction on 1/31/20 from 5:00pm until the end of the Boys Varsity Half-Time.  Come bid on some great items that have been donated.  
WM Music Boosters are having a grilled burger, sides and drink fundraiser on 1/31/20 from 5:00-7:30pm in the HS Cafeteria.  Cost is $5.00.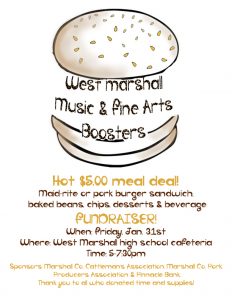 Please join the WM PTO on Sunday February 2nd from 4:00-9:00 pm at Hickory Park in Ames.  You can dine in or carry out meals during this time.  All you have to do is sign the back of your check with West Marshall on the back and drop in the box on the way out the door.  
As Always THANK YOU for supporting West Marshall Schools!