Fine Arts
Scholastic Art Press Release 2023   
     
Congratulations to our WMHS art students: Lily Anderson, Elle Carlson, Hannah
Frahm, Brooke Hilleman, Megan Huseboe, Sabrina Johnston, Zane Kirke, Savannah
Perry and Carli Pfantz for their honors in this year's Scholastic Art Contest!
This prestigious competition has been available to teen artists & writers since 1927 and
includes famous alumni such as Robert Redford, Ken Burns, Stephen King, and Andy
Warhol!
Thousands of students from Iowa and surrounding regional states seek the honor of
being recognized for their talents on one of the 3 mentioned honors: Gold key (top
5-7%), Silver Key (top 7-10%) and Honorable Mentions (top 10-15%). Of the gold key
recipients, 10 are hand picked as being the best of show and are adorned with the title:
American Visions Nominee.
The West Marshall Art Program is pleased to announce the creative accomplishments
of this year's awarded fine artists:
American Vision Nominee:
Sabrina Johnston: Manifestation of Cyberbullying (sculpture)\
Gold Key: (top 5-7%)
Hannah Frahm: Balance of Pain (sculpture)
Sabrina Johnston: Manifestation of Cyberbullying (sculpture)
Zane Kirke: Oil on Burlap (drawing & illustration)
Silver Keys: (top 7-10%)
Megan Huseboe: Nouveau (photography)
Zane Kirke: Cello 2021-2022 (sculpture)
Mount Rushmore (drawing & illustration)
Savannah Perry: Beauty of Death (photography)
Honorable Mentions: (top 10-15%)
Lily Anderson: Screamo Metal Mask (jewelry)
Elle Carlson: Notable Layers (fashion) made this outfit in Mrs. Speaks Fashion and Textiles class. Task: Repurposed materials.  Elle used old sheet music and ribbon
Brooke Hilleman: Evolution of a New Beginning (expanded projects)
Zane Kirke: Contemplation (mixed media)
Carli Pfantz: Perception (drawing & illustration)
State Fish Award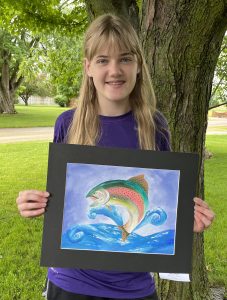 Elle Carlson, West Marshall high school student, receives 1st place for the 7 -9 grade division for Iowa State-Fish Drawing and 1st place for her essay.  Congratulations!
The Iowa Department of Natural Resources partnered with the Wildlife Forever® State-Fish Art®
have hosted their annual State-Fish Art Contest for 2022.  This is Elle's second year in a row for receiving 1st place recognition in the state of Iowa for this national competition. 
The State-Fish Art Contest uses art to ignite children's imagination while teaching them about fish
and fishing. Entries showcased students' favorite state fish in its natural habitat. All entries were
original hand-done artwork. Winners were selected based on creative expression, originality,
visual appeal, and artistic merit.  Elle's 'Rainbow Trout' along with her story captured the attention of this year's judging panel.  Congratulations Elle!  
HOIC Fine Arts Day
Blue Ribbon Link
West Marshall High School had its first annual HOIAC Fine Arts Festival located at Saydel High School on March 3rd.  The evening was celebrated with performances by honor choir and band students as well as a visual display of juried artworks for spectators to partake in for their evening of the arts.  The list below acknowledges the students who participated in the Fine Arts Festival as well as those who were acknowledged with special art recognitions. 
Honor Choir Students:  
Soprano= Emma Dierks, Avery Evertsen, Elizabeth Lang, Eleanor Vannatta, 
Alto= Elle Carlson, Gracie Carlton, Gabby Eirickson, Abby Hilleman
Tenor= AJ Dee, Noah DeSotel, Trevor Turner
Bass= Aiden Knea, Aaron Ratte, Zandar Shaffar, Dru Wilder
Honor Band Students: 
Bb Clarinet= Ella Henze
Bari Sax= Shayla Sickles
Trumpet= Elyn Bartine, Ian Osgood, Dessa Schelling
Trombone= Katie Morrison, Ryan Rohmiller, Makayla Schuler
Tuba= Samantha Propp
Art: Special Awardees 
Best of Show= Zane Kirke, 'Mount Rushmore'~oil pastel
Saydel's Student Pick= Wesley Thompson, 'Cubism Hay Bale Dog'~acrylic paint
Art Categories: 27 total Blue Ribbons including collaborative works! 
Collaborative Work= 
Art Foundations Class, 'Connected by Strings'~sculpture 
3D Art Class, '6 Feet Apart Syndrome'~sculpture
Colored Pencil= Abigail Davis, 'Apple'
Jewelry= Lily Anderson~'Honeycomb Set', Jadyn Bunting~'Layers',
Elle Carlson~'Circular Headdress'
Mixed Media= McKenzie Dugan~'Ghosts', Charles Lass~'Posed'
Oil Pastels= Zane Kirke~'Untitled'/1st oil
Open Category= Brooke Hilleman~'Kinetic Tree of Life'/mobile
Pencil= Jadyn Bunting~'Cousin', Ava Edler~'Happy Eyes', Zane Kirke~'Locket' & 'Them Changes', 
Carli Pfantz~'Perception'
Pen & Ink= McKenzie Dugan~'Squirrely Behavior', Zane Kirke~'Linear Nonsense'
Photography-Altered= Gracey Nolta~'Broken'
Sculpture= Carter Brown~'Fingerped', Cassiday Daub~'The Uncanny', Kalina Mehmen~'Ojanbanjo',
Wyatt Thompson~'Youkalaylee'
Textiles & Crafts= Cassidy Daub~'Music Makers',Brooke Hilleman~'Repurposed Bodice', 
Zane Kirke~'Untitled'/Burch Chair
Watercolor= Anna York~'Prissy Princess Shady' & 'Sunkissed Winston'

Choir photo:
BACK ROW:
Aaron Ratte, Dru Wilder, Eleanor Vannatta, Noah DeSotel, Aiden Knea
FRONT ROW:
Abby Hilleman, Emma Dierks, Elizabeth Lang, Elle Carlson, Trevor Turner
Absent – Avery Evertsen, Gabby Eirikson, and Gracie Carlton
Marshall County Conservation Board puts on an annual photography contest that involves scenic (natural resources), native plants, native wildlife, outdoor recreation, and open nature (nature images not from Marshall County).
There are awards for all the categories, honorable mentions, and a special youth award.
This year Kody Carver was awarded 1st place-Youth for his photograph titled: Wondering Girl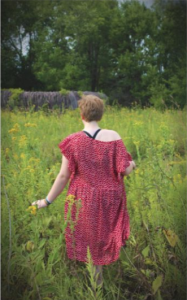 2022 Award Winners
Congratulations to all these West Marshall seniors for being recognized for their artistic skill and visions at this year's State and Regional competition of Scholastic Art and Writing!
Third hour art class is currently making sculptures out of foam board.  Click Here for pictures