Products
We offer a variety of customized wood products. Place an order in the form below or reach out to us at sales.wmfreeenterprise@gmail.com to get a customized quote today. We offer a stock size for most products but are able to do additional customizations upon request.
We can create any design and color combination you desire but due to trademark and licensing issues, we will not be able to place any trademarked or licensed logos on our products.
---
Cutting boards
Our cutting boards are made of a butcher block cutting surface trimmed in your choice of wood. The top options are Walnut and Maple. Add an additional flair to your cutting board with a custom engraving.
---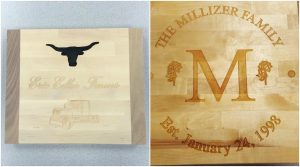 Coasters
Tired of having ring stains on your coffee table? Our coasters are the perfect solution. Made out of your choice of walnut, pine, oak, or maple, each coaster can be customized to your liking.  Each coaster measures 4" x 4" x .75" and pricing varies by wood type.
---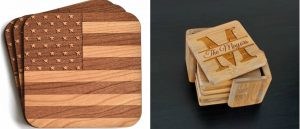 Family Sign
Looking to add a personal touch to your home? Family signs are the perfect fit. Each sign is custom made at 12″ by 24″ with your choice of three color options. If looking for a different size, contact us and we will provide you with new pricing information.
---
Charcuterie Boards
Looking for a nice new way to provide snacks at a get-together or add a new decoration to the house? Then we have a product for you. The Charcuterie Board is an Oak tray with a choice of 3 different handles to choose from. It measures as 8" x 18" x 1.5" and is priced at $50.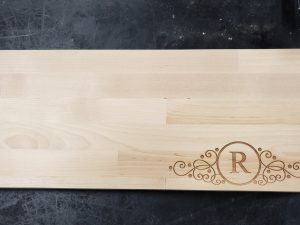 ---
Order Form
Please complete the order form below to get your order started. If you have questions or would like to further customize your product, email sales.freeenterprise@gmail.com
---