Jan 9, 2022
Great things at WM
Great things at WM
The West Marshall Middle School robotics teams both fared well at the Jr. Jacket's Robotics Tournament in Council Bluffs this past weekend. Team Beta finished 2nd in the Robotics Sills Competition after nearly quadrupling their score from two weeks ago. They then went on to finish 4th in the Teamwork Competition, up from 6th place two weeks ago. Team Alpha finished 4th in the Robotics Skills Competition and then went on to finish 1st in the Teamwork Competition. Both teams have now qualified for the state robotics tournament in March. Both teams have had a remarkable first year of competition.
Walk past the new Trojan Spirit mural at the middle school to find all the hidden words that make our district a success!  The mural was designed and created by senior, Anna York and assisted by the art teacher, Mrs. Sogge.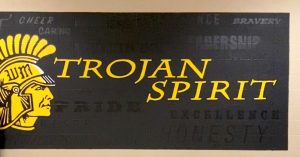 Our 5th-8th grade VEXIQ team participated in our schools first ever competition today. They attended the Sacred Heart Tournament in Adams Minnesota. Team Alpha won the judges award and tied for 3rd place in the skills competition. Team Beta placed 10th in the team qualifying rounds and made it to the finals.  The teams will compete in their next tournament on January 22nd in Council Bluffs.