Jan 9, 2022
Great things at WM
Great things at WM
2021-2022 Staff awards
   
5 yrs
10 yrs
15 yrs
20 yrs
25 yrs
30 yrs
Logan Barnes
Kathrine Dickey
Pauline Buck
Sean Chesler
Brittany Hulme
Angela Hilleman
Stephanie Edler
Jeanna Clough
Paula Nusbaum
Mindy Jensen
James Lloyd
Bob Nusbaum
Kathrine Dickey
Jake Randall
Linda Schuler
Angela Stubbs
Michelle Wilson
Tom Dobbin
Retirement:
Andrea Halbloom
FFA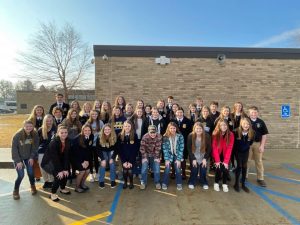 District Convention Results: West Marshall had a great day at Districts. Six of Nine West Marshall FFA events advanced to State, One Alternate, Two Silvers. We are VERY proud of our students for all their hard work!
Academic Achievement: Baylee Butler, Laurin Goecke, Adysen Lander, Addie Young, Eleanor Vannatta, and Greta Wengert
District Delegates: Ciera Randall and Brody Kelber
Chapter Program – Ari Duncan and Adysen Lander and Greta Wengert: 2nd Gold, Advance to State
Creed Speaking – Kinleigh Kriegel: 1st Gold, Advance to State
Conduct of Meetings – Elyn Bartine, Bella Borgos, Avery Evertsen, Lily Fischer, Natalie Nichols, Maddy Thompson, Elley Walker: 3rd Gold, Alternate to State
Extemporaneous Speaking – Ethan Finch: Silver
Public Speaking: Eleanor Vannatta: Silver
Ag Impact 1: Mia Christianson, Sophia Simms, Ellie Andrews, Briley McGrew, Jenna Randall, Jesse Dunham: 2nd Gold, Advance to State
Ag Impact 2: Drake Goodman, Nelle Kremmerer, Landery Peterson, Elyse Ranson, Ava Young: 1st Gold, Advance to State
CSI: Mack Borton, Olivia Davenport, Beckham DeSotel, Alina Goldie, Claire Kouba, Jackson Walker: 1st Silver, Advance to State
Experiences the Action: Savanna Davenport, Mari Kriegel, Shelby Johnston, Rachel Randall, Riley Randall: 2nd Gold, Advance to State
ETA Audience: Noah DeSotel, Aiden Knea, Paige Ward
—
HOIC Fine Arts Contest
Blue Ribbon Winners Link
Press Release link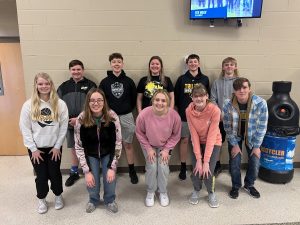 Choir photo:
BACK ROW:
Aaron Ratte, Dru Wilder, Eleanor Vannatta, Noah DeSotel, Aiden Knea
FRONT ROW:
Abby Hilleman, Emma Dierks, Elizabeth Lang, Elle Carlson, Trevor Turner
Absent – Avery Evertsen, Gabby Eirikson, and Gracie Carlton
Zane Kirk- Blue Ribbon Best of Show titled Mount. Rushmore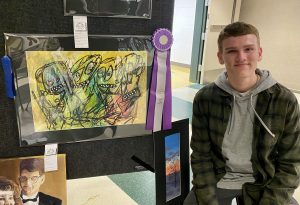 Honor Band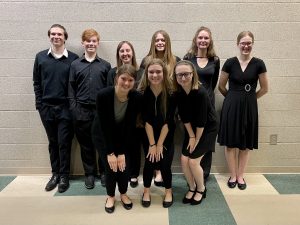 Marshall County Conservation Board puts on an annual photography contest that involves scenic (natural resources), native plants, native wildlife, outdoor recreation, and open nature (nature images not from Marshall County).
There are awards for all the categories, honorable mentions, and a special youth award.
This year Kody Carver was awarded 1st place-Youth for his photograph titled: Wondering Girl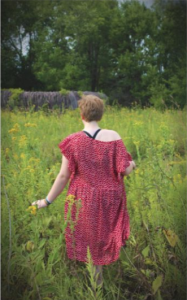 Congratulations to all these West Marshall seniors for being recognized for their artistic skill and visions at this year's State and Regional competition of Scholastic Art and Writing!
Carter Brown (WM Senior)
Honorable Mention
"Through the Magnifying Glass"
photography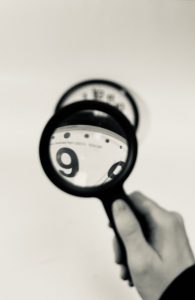 Cassady Daub (WM Senior)
The West Marshall Middle School robotics teams both fared well at the Jr. Jacket's Robotics Tournament in Council Bluffs this past weekend. Team Beta finished 2nd in the Robotics Sills Competition after nearly quadrupling their score from two weeks ago. They then went on to finish 4th in the Teamwork Competition, up from 6th place two weeks ago. Team Alpha finished 4th in the Robotics Skills Competition and then went on to finish 1st in the Teamwork Competition. Both teams have now qualified for the state robotics tournament in March. Both teams have had a remarkable first year of competition.
Walk past the new Trojan Spirit mural at the middle school to find all the hidden words that make our district a success!  The mural was designed and created by senior, Anna York and assisted by the art teacher, Mrs. Sogge.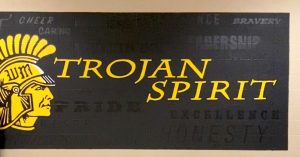 Our 5th-8th grade VEXIQ team participated in our schools first ever competition today. They attended the Sacred Heart Tournament in Adams Minnesota. Team Alpha won the judges award and tied for 3rd place in the skills competition. Team Beta placed 10th in the team qualifying rounds and made it to the finals.  The teams will compete in their next tournament on January 22nd in Council Bluffs.