ONLINE ENROLLMENT IS NOW OPEN!  
Complete the 2023-24 enrollment in JMC for each student using the directions below.
FEE INFORMATION
Pay any applicable instructional resource fees by September 1, 2023 which have been added to your family JMC online account.
FEE PAYMENT & LUNCH DEPOSIT INSTRUCTIONS:   link
TO MAKE AN ONLINE PAYMENT:  YOU MUST PAY FROM A DESKTOP OR LAPTOP COMPUTER.  YOU CANNOT PAY FROM YOUR MOBILE PHONE UNLESS YOU SELECT "DESKTOP APPLICATION".
| | | |
| --- | --- | --- |
| Elementary Instructional/Resource Fee | Middle School Instructional/Resource Fee | High School Instructional/Resource Fee |
| $50 | $50 | $70 |
Pay any additional applicable fee per the schedule below by September 1, 2023: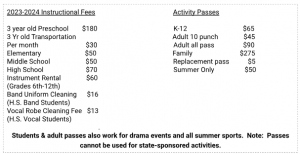 If you qualified for free/reduced lunch and completed the fee waiver, you may be eligible for reduced fees.  Visit the Food and Nutrition Services Page for more information about and how to apply for Free/Reduced Lunch Program.  Questions about free/reduced fees?  Please contact Buffi Honeck in the District Office for additional assistance.
REGISTERING YOUR STUDENT(S):
Go to JMC.
Choose the Parent Icon.

If you are NEW to the district, click on the New Enrollment icon instead and enter in the required information and follow the steps accordingly.

Enter your username and password and click login.  *If you do not have this information, please contact the superintendent's office to assist you at 641-483-2660*.
Select "Register for 2023-24" from the left menu and then select Start/Continue the Registration Process.
Complete or update each page's information and then use the NEXT button to advance the page.
This process will take you through each one of your students enrolled at West Marshall.  Click FINISH when complete.
After you have verified all information, click LOG OUT.
ACKNOWLEDGEMENT REQUIRED BY THE STATE OF IOWA/DISTRICT:
Effective July 1, 2023, Iowa Code § 279.80 added by the 2023 Iowa HF mandates that each school district must require that the parent or guardian of each student enrolled in the school district acknowledges receipt of the applicable student handbook, either in writing or electronically.
To complete this requirement, ALL parents/guardians MUST:
 Review the applicable handbook(s) for their student(s).
Click here to view the handbook(s) specific to your student(s) and to complete the online acknowledgment.
FORMS REQUIRED BY THE DISTRICT:
The forms below are also linked through JMC but provided for convenient access here.  Please complete the necessary form(s) based on your student(s) type(s) noting that NOT ALL forms need to be completed annually.  Contact your school building main office or the Superintendent's Office if you have questions.
NEW TO THE DISTRICT? 
ALL NEW students to West Marshall MUST complete the online registration AND the additional forms listed above.
STUDENT PARTICIPATING IN AN EXTRACURRICULAR SPORT/CHEER/COLOR GUARD?
You must also complete the online activity registration through BOUND; this information is available through the ACTIVITIES AND ONLINE REGISTRATION page on this site under "Parents".  CLICK HERE for instructions.
NEED BUSSING?
If your student(s) need before school and after school bussing or Preschool midday transportation, please email mwilson@wmcsd.org to set this up.
New Student bus sign-up Link
OFFICE STAFF CONTACTS:
Elementary School:  641-483-2671 (Lisa)
Middle School:  641-483-2165 (Heather)
High School:  641-483-2136 (Megan)
Superintendent's Office:  641-483-2660 (Buffi)
Transportation 641-483-2684 (Michelle)